Once only the realm of little girl's rooms, in the last 5 years or so, fairy lights have really come into their own as a way of creating a soft, romantic and whimsical look in our homes and gardens. And the great thing is that home interior designers of all budgets and styles seem to have realised our passion for a good fairy light and are helping to fuel this obsession with some gorgeous designs that can suit any style, budget or requirement. From wedding decorations to bedrooms, kitchens, outdoor decking and more, adding a string of fairy lights is a sure fire way of also adding some instant style to your interiors. If you are looking to light-up your décor with some lovely fairy lights, then you should check out these gorgeous ones below that look great and are reasonably priced too!
For the garden or for some decking, what could be more fun or appropriate than these fun and quirky ice lolly shaped fairy lights from high street favourite Matalan?! This string features 12 lollies in attractive aqua, rose pink and lemon yellow colours and is intended for the garden since they are actually solar-powered! Watch your garden come to life with these kitsch lights as dusk falls, and know that you got a complete bargain too, since one string costs just £10!
For some fairy lights that are just a little bit more upmarket and posh, then Laura Ashley with their pretty and airy designs is a great brand to check out. There you will be able to find a range of gorgeous fairy lights including these adorable mini lantern ones that will light up a kitchen window a treat for example. These indoor lights are understated and cool and will add just the right touch of rustic chic to your home. They are currently in the sale at just £19.50, so what are you waiting for?!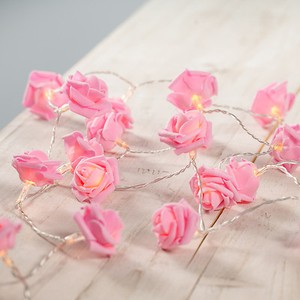 If you're into floral designs in a big way, then a string of gorgeously girly flower fairy lights is the perfect thing for you to invest in, and as this budget set from EBay proves, you don't have to spend much to get a lovely product. These cost less than £5, and are battery operated meaning that you can put them wherever you like in the house. The delicate pink roses will add just the right touch of feminine style to a room, and if you love these, then you can always splurge and get several sets to drape around the house.
https://www.poundstretcher.co.uk/media/catalog/product/cache/1/image/686x/9df78eab33525d08d6e5fb8d27136e95/b/u/bulb-front.jpg
Finally for a chic and modern approach to fairy lights that look utilitarian and undeniably cool, we love these bulb ones that actually come from bargain shop Poundstrectcher. With 18 bulbs on a string with the gentle warming golden glow, these will really look great in a kitchen or round a study desk. They cost just £5.99 so you can always get more than one set, and they look just as good as the same thing from more upmarket brands that cost 4 times as much!