The bathroom is one of those rooms in the house that is often overlooked when it comes to our home interior dreams and designs, but this simply shouldn't be the case. This is one room that you guarantee need and use every day, but just because it is a necessity, doesn't mean that it can't look good too. With such a huge range of home-ware available out there both in the shops and online there is no excuse to have a dingy bathroom that simply doesn't echo the effort that you have put into your other rooms. Even if you live in rented accommodation, with the addition of a few key accessories you can easily transform your bathroom into a luxurious looking room that is still functional and easy to keep clean. We've found some beautiful bathroom accessories, so if your bathroom needs a mini-makeover then read on to find out all about them.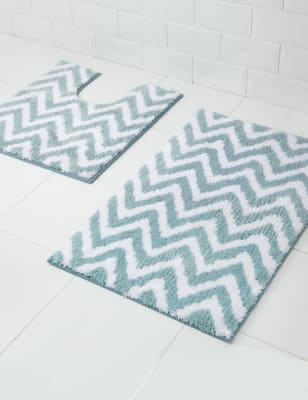 A new bath mat set is one of the easiest and quickest changes that you can make to get your bathroom well on its way to looking a bit more spruced up, and fortunately they are widely available and tend to be really reasonably priced too. For a lovely bath mat set that is also of great quality and style, we've turned to one of the most popular shops on the British high-street, M&S. This pretty and fresh zig-zag set is just the thing to brighten up your bathroom, and the mats are sumptuously soft and luxurious for your feet. Even better, they feature quick-dry technology that means there'll be soggy mats to make your feet shudder. Available in both duck egg (shown here) and charcoal shades, you can easily pick the mats to your taste. The best thing of all though has to be the price; this bath set duo costs just £15.
Poundstretcher is one of those great bargain budget stores where you can find just about anything and everything from pet food to hair accessories, so it is no surprise that they offer a pretty comprehensive home-ware range too. If you've been looking for a new bathroom mirror but are on a pretty strict budget, then look no further thanks to this classy white number with a shelf from the brand. The shelf is perfect for your tooth-paste and brushes, and is neat enough to fit even the smallest of bathrooms. And of course since it is from Poundstretcher, the price is absolutely miniscule at just £6.99!
And finally for something a little bit quirky that will stand out in your home, we love this cute octopus soap dish from the Zara home collection. An under the sea or nautical theme is always easy to achieve in the bathroom, but you don't need to over-do it; with just a few key pieces you can create a fun yet luxurious feel to your bathroom without breaking the bank. This is a lovely delicate and subtle piece that looks far more expensive than it actually is!