The kitchen is probably the most-used and most important room in your home, and even if you are a not a fan of cooking or lack cooking skills, you will at least make your morning coffee there! Since it is such an integral part to our homes, it is important that you like the design of it, so if you are staying in somewhere any length of time, then we recommend that you transform your kitchen style to suit you. One of the easiest ways to do this without having to put on a lick of paint is by investing in some lovely kitchen furnishings that are as practical as they are gorgeous. If you've been thinking about making a few small changes to your kitchen for a while now, then read on to discover some fantastic furnishings that are sure to look great in your kitchen.
Kitchen islands have seen a return to popularity in the last few years, and you won't see any self-respecting celebrity chef or cook filming at home without one, and it is true that they are really practical. Not only do they create more storage and preparation space, but they are the perfect solution if you already have a fitted kitchen but need a bit more. You should view a kitchen island as an investment piece really, since even if you move, it can easily come with you to your new home, so it pays to get one that is of good quality. This solid oak piece but chic home designer company Habitat ticks all the right boxes, and is compact enough to suit most sizes of kitchen. It costs £595, but thanks to its great quality it really will last you for a lifetime.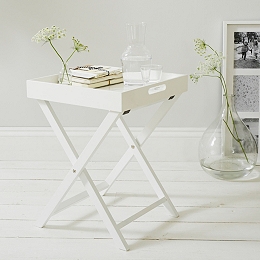 If you are tight for space (hello miniscule London flats!) then a fold away butler's dray could be just the thing for your kitchen. This aesthetically pleasing and charmingly old-fashioned style is updated in white in this lovely version from The White Company. Idea for dining for one in front of the TV, or for creating a handy serving table for everyday use or for when you have guests, this infinitely useful little table still remains stylish and chic. It costs £95, but to make sure that you get the best deal possible when you are shopping online, you should check out one of these The White Company discount codes.
Finally we turn to a high-street fashion brand that has successfully turned its hand to home-ware too, and that is the Spanish brand of Zara. They have some really quirky pieces in their collections, and to add an instant air of rustic country chic to your kitchen without cluttering it up with useless items that only look pretty, we recommend these steel and brass jugs with a jute handle. Costing £59.99, they are of great quality and you'll find them useful in your cooking, entertaining and everyday life. They also look much more expensive than they actually are, which is also a bonus!