Crockery and other dinnerware are things that we use every day so you should like them, and they should also reflect your own personal style. Since they get such frequent use they always of course have to be practical, but that doesn't mean that they can't look good at the same time! If you are still stuck with a mish-mash of IKEA plates and left over odd pieces from various members, then it is high time that you looked into getting yourself a nice set of dinnerware that will obviously last you for years to come. One of the great things about dinnerware sets, aside from the use that you will guaranteed be able get out of them, is the fact that you don't always have to spend the earth to ensure that you get something that looks good. If you've been thinking of buying a new and lovely dinnerware set, but are on a bit of a budget, then check out these lovely bargain offerings right here.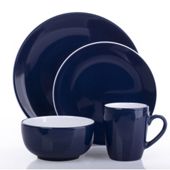 Supermarkets are a great place to head to if you're in the market for new crockery since they tend to specialise in affordable and durable pieces and often you can even benefit from promotional deals that they have going on. Therefore it will come as no surprise that we are heading to supermarket giants Tesco for our first pick. The lovely deep indigo shade of this set is as eye-catching as it is unusual, and if you have a modern kitchen this colour will complement it perfectly. This 16-piece set includes 4 dinner plates, 4 side plates, 4 bowls and 4 mugs making it the ideal addition to a family setting. And because it is Tesco, this lovely and striking crockery set costs just £39.99!
If you prefer a more rustic and countrified look to your kitchen, then assemble a collection from this gorgeous range at Matalan. Choose from the typical mugs, side plates, dinner plates and saucers with either pale blue hearts or grey. With something of an air of top British designer Emma Bridgewater, each piece in this collection costs just £3, meaning that you can easily assemble a 16-piece set for under £50. Microwave and dishwasher safe, as well as completely adorable, this set looks far more expensive than it actually is, and will really look great in a more traditional kitchen.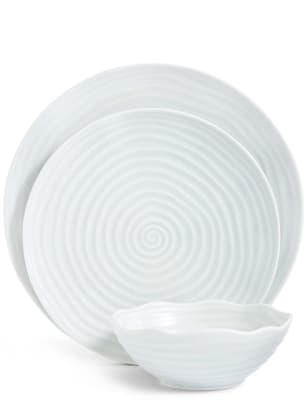 This one is a little bit more expensive, but if you're into fun and quirky design, then is could be the dinnerware set from you. The lovely wave ripple effect looks contemporary and attractive with the bowls reminiscent of sea shells, and the soft light grey colour will look great in any kitchen. This unusual set comes from one of our favourite high street shops, M&S, and costs £69. In the set you will get 4 bowls, 4 side plates and of course 4 dinner plates, and if you really fancy it, you can buy the matching ripple mugs for an additional £5 each. So save up your M&S vouchers and check out this lovely set.